Welcome to the Curriculum Guide

What's New
This Web site will be DOWN (not working) this coming Sunday, March 11th! All should be well and good by Monday morning, however. Please plan accordingly.
This area is for adults using the site with youth. Whether you're just getting started or a seasoned visitor, this area can help you make the most of out of The Youthhood Web site.
Here you can learn more about how the site was conceived and developed from a research perspective, prepare yourself and your youth for exploring the site together, read the curriculum guide pages for each content area, learn of the instructional tools available to you, and more. For more, see the links in the left sidebar or below.
What is the Youthhood?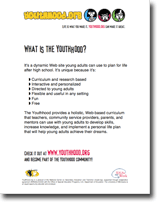 It's a dynamic Web site young adults can use to plan for life after high school. It's unique because it's:
Curriculum and research based
Interactive and personalized
Directed to young adults
Flexible and useful in any setting
Fun
Free
The Youthhood provides a holistic, Web-based curriculum that teachers, community service providers, parents, and mentors can use with young adults to develop skills, increase knowledge, and implement a personal life plan that will help young adults achieve their dreams.
If you'd like to print a flyer about Youthhood in your setting, simply download the flyer in PDF. If you need to edit this file, please contact us at youthhood@umn.edu to request an editable version.
Questions?
If you have any questions about using this site with your youth, whether you're a teacher, parent, mentor or other adult professional, please Contact Us.